RIVERDOGS - California (Review)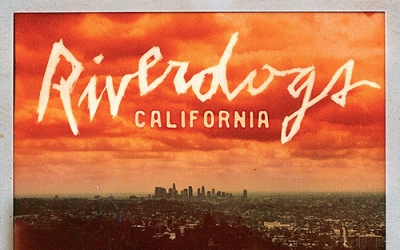 You just can't help but love the 'Dogs. One of my favourite 'soulful' rock bands that I've followed since their incredible debut. But don't leave out the equally essential Bone and Absolutely Live!
While the guys delivered a taste of new material with the World Gone Mad album – constructed from left over songs of the past and unfinished tracks during previous attempts to reform, this is their first proper full length new material release with the original lineup since the debut back in 1990.
California was billed as the return to their hard rock roots, which I find wholly misrepresentative on two fronts. First – the band has never been a hard rock band. Bluesy/soulful rock/melodic rock is more accurate; but secondly – this album is nowhere near what you'd define a hard rock album to be.
That little peeve stated, we can concentrate on what California is – and that is a gem of an album that is drenched in soul, exquisite songs and a sublime production and mix that is among the best I've heard in a long time. Every note and every emotion is there to be heard. Well done Nick Brophy!
While it isn't rocking by any stretch, it is a guitar driven record and Vivian Campbell shows his intricate skills on a collection of slow, moody, expressive songs. The soloing is wonderful, the riffs warm and perfect foil for the hypnotic soulful vocals of Mr. Rob Lamothe.
Rob is one of my favourite vocalists, his tone and his talent for emotional lyric delivery is a huge appeal to me and this is one of the best collection of his vocals I've heard yet.
The opening American Dream is one of only a few songs with pace, but there's nothing but quality here. Golden Glow for example is just about as good as it gets. And each song, while remaining generally mellow, has its own personality.
The Heart Is A Mindless Bird is another lyrical and musical gem; The Revolution Starts Tonight is powerful and the punky Searching For A Signal gives a mid-album tempo shake-up.
Ten Thousand Reasons is another highlight while Catalina doesn't have the best chorus, but the tempo is welcomed.
The star for me on this moody, mature, elegant and engaging record is the subtle, haunting vocal dominated I Don't Know Anything. What a song.
To my surprise, the Japanese bonus track is not a lame edit/acoustic version of an album track, but rather another all-new song (When The Mic Drops) and one that carries quite a swagger.
---
It took a few listens and the right mood to best appreciate this album and its various intricacies, but once there, it's no turning back. A great album from one of the best sounding bands of this ilk.
Everyone involved delivers electric performances and the songs definitely engage.