One On One With Mitch Lafon - NIKKI SIXX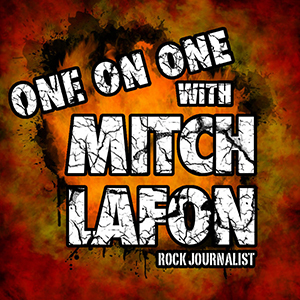 The one and only NIKKI SIXX of SIXX:A.M. joins Mitch on episode 216 of One On One With Mitch Lafon.
LINK TO INTERVIEW: http://www.spreaker.com/user/talkingmetal/1on1-mitch-lafon-216-nikki-sixx-sixx-a-m
In the episode's only interview, legendary bassits NIKKI SIXX discusses the band's new album Prayers For The Damned Vol. 1, the song wriiting process, their upcoming tour schedule, YouTube and digital rights, Brides Of Destruction, the business of Mötley Crüe, Prayers For the Damned Vol. 2 (slated to be released this fall), the passing of PRINCE and more.
Quotes from the NIKKI SIXX interview:
The song writing process (time - 1.00): "I've had every situation as a songwriter, but with James, DJ and myself - we're a band. It's really the three of us that create this music. Parts of the way it sounds is because of DJ, other parts are because of James and other parts are because of me. Something happens between the three of us and we really enjoy that. It doesn't ever really come down to ego or who gets more. It comes down to 'what's the best thing for the project, for the song, for the fans."
(time - 2.38): "A song like Live Wire, for example, I wrote that for Vince Neil's voice.That's all there is to it. If you don't write it for the vocalist then it doesn't make any sense."
Prayers For The Damned Vol. 1 & Prayers For The Damned Vol. 2: (time - 3.53): "There is a definite separation in the two albums. They are two completely different albums."
(time - 4.26): "We have a song called Maybe It's Time which is maybe one of the best songs we've written. We're really excited about it."
(time - 5.15): "We're just loving having so much music to put out and so many opportunities to play in front of people."
Why build a new band and brand with SIXX:A.M. (time - 5.46): "Artists make art. Photographers shoot pictures. Musicians write songs. Writers write. That's just the way it is. So, you may or may not be as successful as something else you've done. Who would have thought that a guy in Mötley Crüe that didn't graduate high school would write two NY Times Bestsellers? You can't really go, 'Well, Mötley Crüe is massive so now what?' What now is you keep creating. You keep making music. You love to play live. If you are strategic and if you're lucky and it's the right time on earth, people can connect to it. That's where we're at as a band."
(YouTube discussion starts at 9.05)
Mötley Crüe (time - 14.26): "We have a live DVD of our last performance ever that we've just finished mixing. It looks fantastic. It was a great show. We have a legacy that needs to be curated. We have vintage merchandise... We plan on obviously staying engaged with our fans. It's not like we're simply going to disappear. The Mötley Crüe movie will come out. There's going to be Mötley in your life for a long time. In one way or another."
(PRINCE discussion starts at 15.14)
For more about SIXX:A.M. visit:
Online: http://sixxammusic.com
Twitter: @SixxAM @james_a_michael @DjASHBA @NikkiSixx
Facebook: http://www.facebook.com/sixxammusic
Spotify: https://open.spotify.com/artist/3886aFez2HDLkio5tUzmP6
Follow Mitch Lafon on Twitter: @mitchlafon
One on One With Mitch Lafon's Official Twitter is: @1On1WithMitch
And Official Facebook page is: http://www.facebook.com/OneOnOneMitchLafon