AOR HEAVEN November 27 Releases Announced: SAFFIRE & MAJOR INSTINCT
AOR Heaven's upcoming November 27 releases are from SAFFIRE and MAJOR INSTINCT.
Product: Saffire - For The Greater God
Saffire was born in 2005 when Victor Olsson and Dino Zuzic were in school together. The idea was to form a band based on old school melodic hard rock and heavy metal but add a modern twist to it. After months of searching and auditioning, the duo was joined by Magnus Carlsson, Martin Järbur and Gustav Elowson.

In 2007 they recorded a first demo but soon after, Gustav had to leave the band and was replaced by then 17-year old Anton Roos, who had just won the Swedish Drum Solo Champion of the year contest. Another demo was recorded in 2008 and Saffire started playing shows in the local area, slowly making a name for themselves. In 2010 Martin was replaced by Tobias Jansson, and an EP was recorded and released. The band kept playing lot's of live shows and finally in 2013, Saffire signed with Inner Wound Recordings for the release of their debut album "From Ashes to Fire".

The album was highly praised all over the world, and Rocknytt.net, Sweden's biggest rock website, put the album on their top 10 list of the best albums of 2013.
Saffire went on to tour all over Sweden, playing some of the biggest festivals alongside bands like Slayer, Steel Panther, At the Gates and Sabaton.

The new album is titled "For The Greater Good" and consists of 11 songs written by Victor Olsson and Tobias Jansson. The album was mixed and partly recorded at Sound Industry Studio by Arnold Lindberg (Evergrey, Ghost, Hardcore Superstar) and mastered by Dragan Tanaskovic (In Flames, Dark Tranquillity, Mustasch).
Line-up: Tobias Jansson - Vocals, Victor Olsson - Guitars, Anton Roos os - Drums, Dino Zuzic - Keyboards, Magnus Carlsson on - Bass
Tracklist: 1. The Great Escape, 2. Casters Of The First Stone, 3. For The Greater Good, 4. Heartless, 5. Dandelion's Shame, 6. Shadowland, 7. Wake Up The World, 8. As Promises Burn, 9. Blame It On The Rain, 10. Ghost Town, 11. This Is Not The End
Soundfiles in Advance:
Product: Major Instinct - Roots & Wings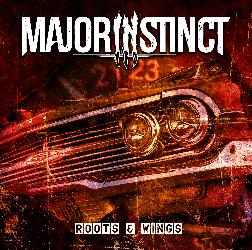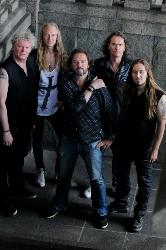 The new Swedish classic hard rock band MAJOR INSTINCT is the brainchild of M.ILL.ION founder, main songwriter and bass guitarist B.J Laneby. After 25 years, seven highly critically acclaimed albums with six figures sales and international touring, he decided to put M.ILL.ION to rest and start something new. This decision came after B.J became very ill and actually nearly died at the end of their last UK-tour (June/July 2014). Several months of intensive care both in the UK and in Sweden followed and once conscious and recovering, he had a lot of time to think. Said and done, the best musicians and the coolest guys available in Sweden were picked and in late December 2014 MAJOR INSTINCT was formed in Gothenburg. A BAND, not a project! The line-up soon was completed with Stefano Marchesini (lead vocals, ex HUMAN RACE),  Magnus Mild (guitars), Johan Häll (drums, ex- M.ILL.ION)  and 22-year old newcomer Gabriel Glamheden (Hammond & keys).
The songwriting took place in the first part of 2015 and carries on the vibe of bands like Thin Lizzy, Whitesnake, KISS and Deep Purple. The major part of the lyrics, all written by B.J Laneby, reflects on the rollercoaster ride called life.  A couple of rough recordings were sent out to some contacts in the business and very soon there were offers on the table. In May 2015, the band decided to go with Metal Heaven and MAJOR INSTINCT signed a deal with them for Europe.
With a deal and a budget in place, July 2015 was spent in the Rabbit Hole Studios in Gothenburg Sweden. Guitarist Magnus Mild was the engineer, Victor Olsson took care of the mix and Martin Kronlund of JM Studio mastered the album.
"High Five", a straight catchy rock´n roll song with a positive message was chosen as the first single and a video clip: "We can do it together!" Be it the team, the band or the couple. The release date for both was on September 30th, 2015. The video for this track was directed by the video producer & photographer, the talented Mr Alex Kristoffersson.
"Roots & Wings" is the name of the album which finally will see the light of day on AOR Heaven on November 27th, 2015. On the same day the band will make their first live appearance at the launch party/release at Musikens Hus, in Gothenburg Sweden.
Tracklist: 1. Roots & Wings, 2. One In A Million, 3, High Five (album version), 4. 316, 5. I Need A Drink, 6. Eyes From Above, 7. Don't Come To Me, 8. Here and now, 9. Kicked To The Ground, 10. Follow The Trends (new version of the M.ILL.ION track from 1995), Mother of all
Soundfiles in advance: