LYNYRD SKYNYRD 'Sweet Home Alabama' 1996 Concert Out June 2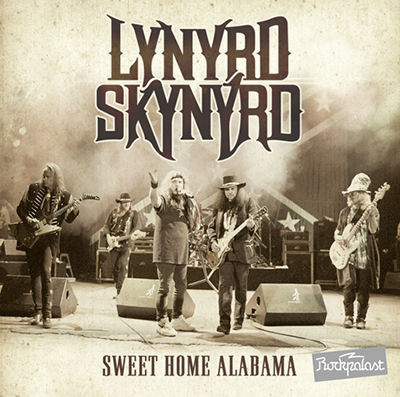 CLASSIC 1996 ROCKPALAST CONCERT NOW AVAILABLE FOR THE FIRST TIME ON 2CD, DIGITAL FORMATS 
New York, NY (March 23, 2015)' On June 2, 2015, Eagle Rock Entertainment will release Sweet Home Alabama by Lynyrd Skynyrd on 2CD and digital formats [Pre-book Order Date May 8, MSRP $17.98].  This classic 1996 Rockpalast concert  - released for the first time on CD - features the band performing all their classics: 'Sweet Home Alabama,' 'Free Bird,' 'Working For MCA,' 'Saturday Night Special,' 'Gimme Three Steps,' 'I Ain't The One,' and many more. A 2LP release will follow.

Lynyrd Skynyrd is the ultimate Southern Rock band. Their signature three-guitar attack coupled with superb songwriting and onstage charisma has rightfully earned them a reputation as one of the greatest live bands of all time. The original band infamously had their career cut short by a disastrous plane crash in 1977, which took the lives of three band members (vocalist Ronnie Van Zant, guitarist Steve Gaines, and vocalist Cassie Gaines) plus assistant road manager Dean Kilpatrick, pilot Walter McCreary and co-pilot William Gray, and seriously injured several others. In 1987, the surviving members reformed the band with Johnny Van Zant taking the place of his brother Ronnie. This concert from 1996 captures the band in top form at Rockpalast's Loreley Festival on June 23, 1996. The band line-up for this show includes Johnny Van Zant (v), Gary Rossington (g), Rickey Medlocke (g, v), Hughie Thomasson (g), Billy Powell (k), Leon Wilkeson (b, v), Owen Hale (d), Dale Krantz-Rossington (bv), Carol Chase (bv).
As a bonus, Sweet Home Alabama also includes extremely rare recordings of the original Lynyrd Skynyrd line-up. Captured at the Hamburg Musikhalle on December 5 1974, Ronnie Van Zant (v), Gary Rossington (g), Allen Collins (g, v), Ed King (g), Billy Powell (k), Leon Wilkeson (b, v), and Bob Burns (d) deliver incredible versions of 'Working For MCA,' 'Free Bird,' and 'Sweet Home Alabama.'

Sweet Home Alabama proves that Lynyrd Skynyrd's signature and sizzlin' Southern-fried sound was able to enthrall fans the world over. It is a testament to the legendary band's resilience to tragedy (which would have railroaded many other acts) and their ability to carry on and continue to rock stages with fervor and spirit.

TRACK LISTING:
Disc 1:
Disc 2:
CD Bonus Tracks From Hamburg 1974:
3) Workin' For MCA  
4) Free Bird
5) Sweet Home Alabama

**Side B of 2LP format 
***Side B of 2LP format 
****Side D of 2LP format