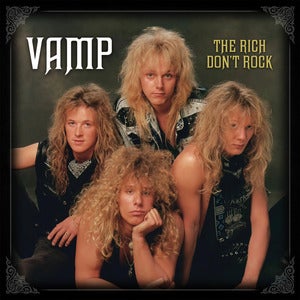 Originally released in 1989, VAMP's The Rich Don't Rock album should be held in the same regard as other classic hard rock albums of the era. Produced by Tony Platt (AC/DC, Foreigner) and stuffed to the rafters with arena-ready choruses, hooky guitars and Tom Bellini's ballsy vocals, The Rich Don't Rock was a creative triumph for the German group. But like the other artists we've made part of the Divebomb Records family, VAMP were victims of their record label's shortsightedness and their album went nowhere commercially.
Being the hard rock fiends we are, Divebomb Records has tracked down the members of VAMP and we've partnered with the band to bring The Rich Don't Rock back with the love and attention it deserves.
The Rich Don't Rock has been unavailable since the late '80s and this Divebomb Records Deluxe Edition features newly remastered band-supplied audio, 15 unreleased professional studio demos, 2012 interview with the entire band and archival live photos.
VAMP
The Rich Don't Rock (Deluxe Edition)
CD/Digital
1/8/13
TRACK LIST:
DISC 1
1. Heartbreak, Heartache
2. Like I Want
3. The Rich Don't Rock
4. Love Games
5. Renegade
6. All Nite
7. Lonely Nights
8. Stand By Me
9. Bleeding
10. Talk Is Cheap
11. Shout
12. Why
BONUS TRACKS
13. The Rich Don't Rock (12" EP Version)
14. Why (12" EP Version)
15. Shout (12" EP Version)
DISC 2
ONE SMACK KILLER - DEMOS
1. Little Bit
2. Love Starved Woman
3. Dead In The Backseat
4. Junkyard D.O.G. (Dirty Old Geezer)
5. One Smack Killer
6. Gimme Some Lovin'
7. I Don't Know
8. The Big Mess
THE RICH DON'T ROCK - DEMOS
9. Lonely Nights
10. What About Love
11. Down And Dirty
12. Waste Of Time
13. Love Games
14. Don't Bite
15. Talk Is Cheap
FOR FANS OF:
EUROPE, HELIX, CINDERELLA and BRITNY FOX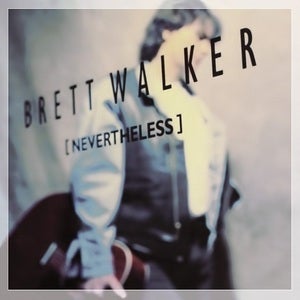 Originally released in 1994 on Swedish independent label, Empire Records, American singer/songwriter BRETT WALKER's debut Nevertheless impressively charted in Scandinavia's Top 40. BRETT WALKER, who was following up his chart success with Alias' Top 10 smash "Waiting For Love," delivered 12 tracks of sure fire melodic rock magic.
Besides once again flexing his own masterful writing muscle with single "Lecia" (which would crack the Top 10 in Europe), he found himself teaming up with industry heavyweights Jonathan Cain (Journey, Bad English), Jim Peterik (Survivor), Stan Bush and Carl Dixon (Coney Hatch) hoping to strike commercial gold once again. These partnerships proved extremely successful with tracks like "Bad Time For Goodbye," "More Than A Memory," "Hard To Find An Easy Way," and "Take Me Home" all becoming immediate fan favorites and remaining completely relevant in today's music market despite the passage of nearly 20 years. Nevertheless is a timeless album for a timeless style of American melodic rock.
Nevertheless has been unavailable since the mid-90s and this Divebomb Records edition features newly remastered audio, 2012 interview with BRETT WALKER conducted by Line Of Fire's Shawn Pelata and personal photos from the album's recording sessions.
BRETT WALKER
Nevertheless
CD/Digital
1/8/13
1. Hard To Find An Easy Way
2. Lecia
3. Everything I Want To Do
4. Take Me Home
5. Never Gave Roses
6. Quicksand
7. Didn't Mean To Say Goodbye
8. Bring Back The Night
9. No Fire Without You
10. Bad Time For Goodbyes
11. More Than A Memory
12. Give A Little Love
BONUS TRACK
13. Midnight Angel (2012 Remix)
FOR FANS OF:
BRYAN ADAMS, JOURNEY, DEF LEPPARD and DAUGHTRY
----------------------
7HY (7 HARD YEARS)
http://www.facebook.com/AK7HY
LINE OF FIRE
http://www.facebook.com/LINEOFFIRE