AXENSTAR - Where Dreams Are Forgotten (Showcase)
Where Dreams Are Forgotten
Produced By:
Axenstar and PelleSaether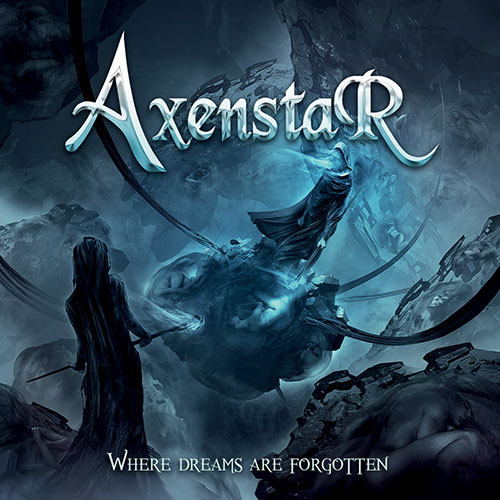 Swedish power metal of the highest class!
Mixed by Axenstar and PelleSaether [Wolf, Harmony,
Månegarm] at Studio Underground and mastered by
Daniel Beckman [Månegarm, In Mourning, Deals Death]
at Ridge Street Studios. Artwork by Felipe Machado
Franco [Blind Guardian, Rhapsody of Fire, Iced Earth]
Inner Wound Recordings 2014 – IW83039
File under: Metal, Rock
Release: November 28th, USA: December 2nd
Tracklist:
Bio:
Axenstar was formed as a metal cover band in 1998 under the name Powerage, but shortly switched name to Axenstar and started to write their own material. In October 2002 the debut album "Perpetual Twilight" was released on the Spanish label Arise Records. The album got really good reviews all over the world and Axenstar got the chance to play at Motala Metal Festival, the biggest gig so far in their career.
The second album "Far From Heaven" was recorded during May of 2003 and just about a week after the recordings were done Axenstar played at the mighty Sweden Rock Festival, which was a great experience for the band. In January 2004 the opportunity was given to go ahead on their first European Tour as the opening act to Falconer.
The third album "The Inquisition" saw the light of day in 2005, and after that Axenstar signed with Massacre Records and released their fourth album "The Final Requiem".
In June 2007 Axenstar did three shows in Sweden together with Nocturnal Rites. After that some line-up changes took place and the band started to work on their next album "Aftermath" that was released in 2011. After the album was released Axenstar did a headline tour of the UK, and played at various clubs and festivals around Sweden.
The band then felt it was time to step up the game, and wrote and recorded what could be the best Axenstaralbum so far, called "Where Dreams Are Forgotten". A deal was inked with the Swedish label Inner Wound Recordings, and the album is scheduled to be released November 28th in Europe and December 2nd in North America.
"Where Dreams Are Forgotten" is a perfect mix of melody and power. The strong songwriting, musicianship as well as the powerful production made at Studio Underground will for sure be loved by the fans of melodic metal.
line-up:
Magnus Wilterwild - Vocals, Bass
Discography:
2014: Where Dreams Are Forgotten [Inner Wound Recordings]
2011: Aftermath [Rock It Up Records/Ice Warrior Records]
2006: The Final Requiem [Massacre Records]
2005: The Inquisition [Arise Records]
2003: Far From Heaven [Arise Records]
2002: Perpetual Twilight [Arise Records]
Produced and mixed by: Axenstar and PelleSaether [Wolf, Harmony, Månegarm] at Studio Underground
Mastered by:Daniel Beckman [Månegarm, In Mourning, Deals Death] at Ridge Street Studios
Artwork by: Felipe Machado Franco [Blind Guardian, Rhapsody of Fire, Iced Earth]
Inner Wound Recordings contact
Axenstaron the web