PUNKY MEADOWS - Fallen Angel (Guest Review)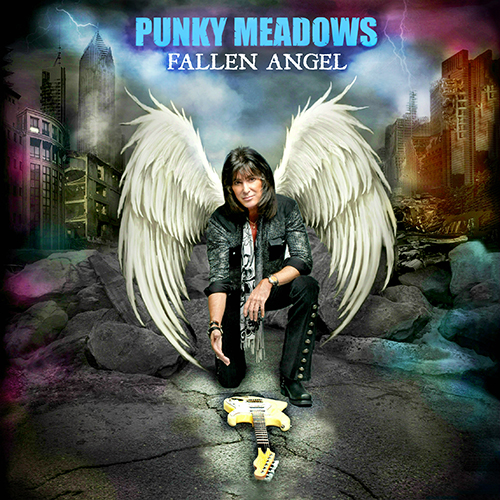 Something a little different today – a guest review! Please welcome former Kerrang journalist and current AOR Blvd record label partner Kelv Hellrazer, who asked if he could review the Punky Meadows album. More than happy to oblige. Over to Kelv:
---
"I was a full card carrying member of AEF ...that's Angel Earth Force to those of you not in the know ....in mid 80's i even stalked Frank Dimino .....down so Metal Forces could get exclusive on his new band ....Teriff  or Terris lol ...Poor old Frank had to Change his phone number ....Even though in 70's i  thought i could look like Barry Brandt hahhahahha
Back To Punky - Last heard of with Fergie Frederikson (RIP) fronting Angel .....with Ricky Phillips ....if you have'nt heard demos you aint heard shit lol ....White Sister covered two Angel songs they Did and songs even turned up on Fergie's solo effort .......
Punky why did Angel not reform back in late 80s doing Sinful Style music i never know ......The greatest hair band ever, better than Kiss ..Speaking of kiss rumours abound ....that Punky were'nt allowed to join… better hair ...or why didn't you join House Of Lords ...The Brits deserved to see those Flashy licks and the ultimate hairdo in rock.
2016 ....Punky hooks up with The future Of Rock Chandler Mogel love this Guy .....He looks like A Young Nuno  and sings lIke A muther.....Plus Angel Stalwart bassist of White Lion fame lol Felix Robinson ....yes i searched endlessy early 80's for Felix Robinson 's White Lion. Whilst Danny Anniello and Bobby Pantella   r pros .....who convinced him to return. Amazingly my ole buddies ......Khalil Turk/Barrie Kirtley  gets hold of em For Escape music what a grand job they've  done in ages love the cover and executive production hhhaha
Musically bits of Angel killer guitar licks, bits Of Raspberries, bits of Silverwing, Seb Kozack, better than Cheap Trick  hahha" Lost and Lonely" definitely Angel Like , " Home Wrecker" starts off with Guiffria style keys from legendary  aor stalwart Charlie Calv...wanna hear more from him ...what about A "Punky's Theme" ....With a dual between Charlie And Punky ....
I nearly crapped myself to intro "Descent", Taken from Angel intro Tape i wanted to search Ebay for a satin Jacket haha ....Searchin is great Angelic stuff 60's influenced really refreshing as is Punky's awesome guitar sound ..Aor by Numbers bands take note ..."Baby Dont Cry" Could Be a wonderful hit Punky could be a hit with Hairdressers everywhere lol ..He's Still very Dallas Meets Dynasty and he's kno youngster
i could rave on forever ....i'm just gonna off  to Nottingham to nick Dave Reynolds Angel necklace And get Dave Herron To dump one of bands on Rockingham , so these guys can play Punky And Chandler could steal the show ....Always better Than Kiss stick that in your Pants Gene ,Punky And Chandler could steal the show.
---
I concur….well, the bits that give the thumbs up anyway! Chandler does indeed do a great job once again, proving his vocal versatility and the songs are a throwback to the 80s without sounding too dated.
Good, catchy classic rock with a retro vibe. I'm slightly less enamoured, but still a solid album from my standpoint.