RICHARD MARX - Beautiful Goodbye (Review)
information persons:
content:
8."Like The World Is Ending"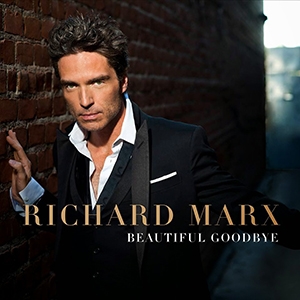 Richard Marx has hardly put a foot wrong throughout his long career. A career longer than any modern day singer/songwriter is ever likely to have I might add.
Even as he matured and moved out of the spotlight, his records have continued to impress. The most recent of which, Emotional Remains and Sundown, were brilliant. Few people capture real emotion like Marx does.
The compilation
Inside My Head
showcased the best of those records with a second disc of re-recorded hits. More brilliance.
So with those high standards set, you will understand why I'm so disappointed in Richard's new studio release. His first all-new set of songs since 2008 was preceded by the lead single

Whatever We Started

– itself an instantly catchy sultry ballad of the highest quality.
But the song signaled a shift in style to programmed beats and synth driven music. And when it was discovered that the ballad was also the album's opening track, it wasn't a good sign for the overall tempo of a record. You don't open an uptempo album with a ballad right?
And those fears were confirmed on my first run through of Beautiful Goodbye. What we have here is 11 tracks that are all very soft, very slow and largely driven by synth programming.
Marx shows his age as he croons through one ballad after another as the tempo barely makes it out of first gear throughout.
There are some fine songs of course, but most of the best songs are lost in the lack of tempo through the album.
Inside, Beautiful Goodbye, Turn Off The Night

and the tear jerker

Turn Off The Night

are all fine songs, but overall are simply lost in a sea of similar ballads.
The heavily programmed

Forgot To Remember

is one instance of a song making it into second gear (co-written with sometime gigging/writing partner Matt Scannell of VerticalHorizon).
The country twang of the big ballad

Like The World Is Ending

is the most painful to listen to – the falsetto is earsplitting and

Eyes On Me

is so unbelievably slow that listening to this while driving is strongly discouraged.
Sorry Richard, 6 years for an album of ballads and slow tempo synth pop? Count me as really disappointed. While some of the elder statesmen of rock have only improved with age (Rick Springfield for example), Richard has missed a big opportunity here to continue the excellent work laid out on past albums. I will return to those post haste.