One On One With Mitch Lafon - GUS G & TESTAMENT's Alex Skolnick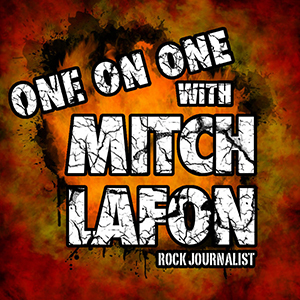 http://www.spreaker.com/user/talkingmetal/1on1-mitch-lafon-146-gus-g-alex-skolnick
Ozzy Osbourne guitarist GUS G. and TESTAMENT's Alex Skolnick join Mitch on episode 146 of One On One With Mitch Lafon. In the episode's first interview GUS G. discusses his new album 'Brand New Revolution', getting the Ozzy gig, working with Ozzy, an update on a new Ozzy album, Firewind and much more.
In the episode's second interview Mitch sits down with Testament guitarist Alex Skolnick. He discusses his new band with Metal Allegiance that also includes The Winery Dogs' Mike Portnoy, Megadeth's David Ellefson and Mark Menghi. We also get an update on the upcoming Testament record, the Alex Skolnick trio, Alex's infamous one night stand as OZZY OSBOURNE's guitarist, TSO, Savatage, Heavy Montreal, and more.
For more about about GUS G. visit:
Online: http://www.gusgofficial.com
Facebook: http://www.facebook.com/officialgusg
Twitter: @gusgofficial
Quotes from GUS G.:
"I can see Firewind becoming more of an eclectic band in the future."
When he was asked to tryout for Ozzy: "You go 'hold on a second,' have three shots of whiskey, you calm down, and then you reply 'yes, I'd like to audition.'"
Learning the Ozzy songs: "You approach them with respect first of all and love (as a fan). You don't fuck around with those songs."
For More about Alex Skolnick visit:
Online: http://alexskolnick.com and http://www.testamentlegions.com
Facebook: http://www.facebook.com/askolnick and http://www.facebook.com/testamentlegions
Twitter: @AlexSkolnick and @testament
Quotes from Alex Skolnick:
Metal Allegiance: "There wasn't any pressure to sound like a certain band."
New Testament: "I look at it like a car. Eric and Chuck work together. They both have their hands on the wheel and I'm the back seat driver."
Working with Ozzy: "It was this very strange period, so you don't want to get to emotionally attached, but at the same time how can you not. It's a dream gig for a guitar player."
"Even though it was just one show... To do so well in rehearsals that Ozzy decides to book a show. Everybody is going crazy because he's inspired and wants to play. What an acknowledgment."
"There are musicians you outgrow, I saw KISS on the Dynasty tour (I was 10 years old). I thought, 'these are the greatest musicians in the whole world.' I saw KISS on the Psycho Circus tour and I thought, 'Oh my God! They can barely play."
Metal Allegiance: http://www.metalallegiance.com
Twitter: @metalallegiance
Facebook: http://www.facebook.com/metalallegiancetour
Follow Mitch Lafon on Twitter: @mitchlafon
One on One With Mitch Lafon's Official Twitter is: @1On1WithMitch
And Official Facebook page is: http://www.facebook.com/OneOnOneMitchLafon