BLACKTHORNE To Re-Issue Debut & Unreleased 2nd Album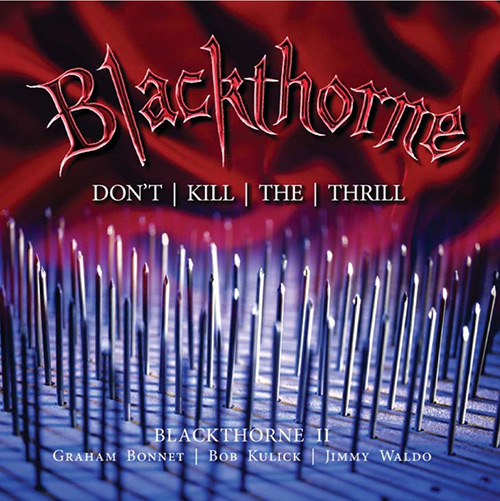 BLACKTHORNE, The early 90's super-group formed by Graham Bonnet (Rainbow / MSG / Alcatrazz / Impellitteri), Bob Kulick (Kiss / Meat Loaf / WASP / Skull) and Jimmy Waldo (New England / Alcatrazz) will on September 2nd release the shelved follow up to their 1993 debut album "Afterlife" via Cherry Red Records UK.
This new release, titled 'Don't Kill The Thrill' features 11 unreleased Blackthorne tracks that were recorded in 1994 for a proposed second album, However following the departure of vocalist Graham Bonnet the group disbanded, (later to resurface with David Glen Eisley as Murderer's Row) and the Bonnet sessions remained unheard , until now.
Also on September 2nd, is the re-issue of Blackthorne debut 'Afterlife' (Also via Cherry Red) previously released on Music For Nations records.
Both sets feature extensive live material and liner notes with new interviews from Graham Bonnet, Bob Kulick and Jimmy Waldo.
'Don't Kill The Thrill' - Tracklisting:
3. Skeletons In The Closet
4. Dreamin' In The Hideaway
12. Afterlife/We Won't Be Forgotten (Live Foundations Forum 1994)
13. Hard Feelings (Live Foundations Forum 1994)
14. Cradle To The Grave (Live Foundations Forum 1994)
15. Japan Sony Music Tv Interview 1
16. Japan Sony Music Tv Interview 2
17. Japan Sony Music Tv Interview 3
18. Uk Tv Interview / We Won't Be Forgotten (Acoustic In Uk)
Disc Two: Live Recordings
1. Desert Song (Foundations Forum 1994)
2. Breaking The Chains (Foundations Forum 1994)
3. All Night Long (Foundations Forum 1994)
4. Wild Inside (Fresno Aug 29th 1992)
5. Since You Been Gone (Fresno Aug 29th 1992)
6. Hard Feelings (Fresno Aug 29th 1992)
7. Wishing Well (Fresno Aug 29th 1992)
8. Baby You're The Blood (Fresno Aug 29th 1992)
9. Will You Be Home Tonight (Fresno Aug 29th 1992) 10. Breaking The Chains (Fresno Aug 29th 1992)
11. We Won't Be Forgotten (Fresno Aug 29th 1992)
12. All Night Long (Fresno Aug 29th 1992)
13. We Won't Be Forgotten (Acoustic - Live In Japan 1993)
All Tracks Previously Unreleased
Afterlife - Reissue Tracklisting:
11. Afterlife (Unplugged - Sony Music Tv Japan 1993)
12. We Won't Be Forgotten (Unplugged - Sony Music Tv Japan 1993)
13. Rehearsal Reel ("Mates" Studio La Dec 16th 1993)
Tracks 11-13 Previously Unreleased