JAN AKERSSON'S SHADOW RAIN Signs to MRR For August Debut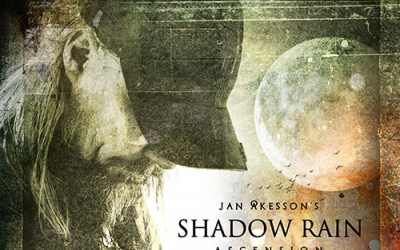 MelodicRock Records is very pleased to announce an extension of the relationship with S.A.Y mastermind Jan Akesson, working with the guitarist/vocalist/songwriter/producer on his debut solo album 'Ascension', set to be released August 26 under the moniker Jan Akersson's Shadow Rain.
Jan Akesson's Shadow Rain is an intense, in your face hard rocking rollercoaster that is both unique and melodic as well as very familiar to fans of the debut S.A.Y album, released on MRR in 2015.
Guitars and menace run through the album's 10 tracks, whilst each throws in a hook and melody that draws you back in for more.
Tracklist:
05. Sound Of A Broken Heart
07. After The Love Is Gone
Jan Akesson's Shadow Rain is:
Jan Akesson: Vocals, Guitars, Backing Vocals
Additional Musicians:
Sven Svantesson - Lead Guitars
Produced, Mixed Mastered by: Jan Akesson
Recorded at Ump Unlimited Music Production
Sweden based multidimensional musician Jan Åkesson, was born in October 1965 and is known for his works with hard rock band StoneLake. Åkesson started playing guitar in 1978 and became a songwriter early in his life. In 1984 he got to know singer Peter Grundström while playing lead guitar in the band "Ravage". Grundström was lead singer of the band "Whitelight" which Åkesson became a member of in the fall of the same year.
In 1987, Åkesson left ​Whitelight and wanted to pursue a career and a sound that was more guitar-oriented and harder. He went on to form new bands: "Why Not", "Perfect Stranger" and "Dr. Blue", playing many very successful gigs and making several acclaimed recordings.
In 1994 Jan decided to step back  from live performance to concentrate on writing and producing songs in his new studio on the emerging digital recording platforms that would soon come to dominate the music industry. The studio he created in 2005, was called "UMP", which is an abbreviation of: "Unlimited Music Production".
After the split from Whitelight, who later changed their name to "Kee Avenue", singer Peter Grundström was enrolled to join "StoneLake". Åkesson and Grundström became a successful songwriting team and released several albums and singles on different record labels.
In 2008 they were invited to write all the music for the project "Solna" and shared the credits with well-known artists from the industry such as Ralf Scheepers (Primal Fear, Gamma Ray), Alex De Rosso (Dokken), Rob de Luca (Lynch Mob, Sebastian Bach) and Pamela Moore who is known for her work with classic band Queensrÿche.
In 2015 the duo formed the project "S.A.Y." and released the critically acclaimed album: "Orion". Reviewer Kieran Dargan of the site "Rocktopia" wrote: "... the musical class on show here is simply too good to ignore. A rather fabulous little album that is well deserving of a home in your collection".
Åkesson has been busy as a songwriter for different genres of music as well as hard rock, and has written pop music for numerous artists in Japan, but also hard rock music for artists such as "Liv Moon" and produced punk covers that were released on the album "MAX! - Punk it!".
Look for 'Ascension', from Jan Akersson's Shadow Rain to be released wide and far by MRR on August 26 alongside the debut Fiction Syxx album 'Talk Dark Secrets'.