Classic Rock Stars DECEMBER PEOPLE Band Together to Feed the Hungry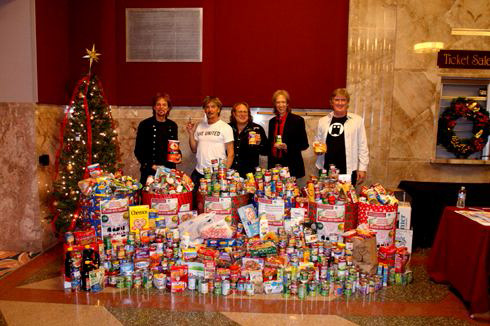 DECEMBER PEOPLE Tour 2015 - Thanksgiving to Christmas
New CD - December People - A Classic Rock Christmas
While many rock stars spend their down time from touring luxuriating on beautiful
beaches in warm climates, notables from a few multi-platinum selling records and world
tours are spending their holidays on the road to advocate for local food pantries and
fundraising during the months of November and December. Their mission is to raise
awareness for local hunger in heartland and urban cities across the United States and the
critical needs and challenges local food banks face to carry on the good work in their
This is the purpose and the reason that December People was formed a few years ago by
rocker, Grammy nominee and studio owner/producer Robert Berry. He enlisted some of
his likeminded, kindhearted fellow rockers and formed a band! They are the
Quite simply, they take the music of Christmas and perform the songs in the high-energy
style of rock n' roll bands that everyone knows? That's the December People!
Imagine this mashup: "I'm Dreaming of a White Christmas" + Billy Idol's "White
Wedding." That's the December People!
The members include classic rockers Gary Pihl, the superb guitarist for BOSTON.
Sammy Hagar's extraordinary drummer David Lauser, The Tubes' amazing keyboardist
David Medd, soloist Jack Foster and founder Robert Berry, lead singer and bassist who
performs and records with Hagar and Keith Emerson & Carl Palmer. DECEMBER
PEOPE are embarking on a concert tour November 21- December 25 that takes them to
Michigan, Kansas and California for ten shows taking place in November and December
The live shows incorporate choirs, drum lines other local flavor to create a most family
friendly holiday event called "A Classic Rock Christmas."
Over the years, December People concerts have raised tons of food, raised awareness for
hunger and united volunteers with generous locals with worthy local organizers.
The December People's "Classic Rock Christmas" tour collected a ton of food for a local food pantry.
Pictured here with Food Bank volunteers after last years concert at the Topeka Performing Arts Center the
band is returning for a show on November 21, 2015.
Videos, Music, Photos - DECEMBER PEOPLE