Rock Candy Records Latest - MR. MISTER & ENUFF Z NUFF
The following four new Rock Candy titles are available now from www.rockcandyrecords.com for a discounted price including postage to anywhere in the world for the next two weeks ending on July 5.
 
MR. MISTER 'WELCOME TO THE REAL WORLD' CANDY270
ALTHOUGH MR MISTER achieved colossal commercial success there has always been a vast under appreciation of their musical worth. Unfairly viewed by many as a faceless mid 80's pop rock band, they eventually scored two worldwide hit singles, their sound showcasing technical ability far beyond the level of musical proficiency normally expected. Indeed, there is an argument that elevates Mr Mister into that rarefied breed of highly respected AOR acts such as Toto, Chicago and Steely Dan.
Based in Los Angeles, the band was originally formed by Steve George and Richard Page (later adding 'ber drummer Pat Mastelotto and guitarist Steve Farris).  Page and George initially recorded unsuccessfully as Pages before changing members and switching their name to Mr Mister, they were then signed to RCA Records by Paul Atkinson, a former member of revered British psychedelic outfit the Zombies. 'Welcome To The Real World', was the band's second album and saw them facing a make or break situation. Fortunately it was a happy ending, with the album producing two #1 hit singles, in 'Broken Wings' and 'Kyrie', and going on to sell in excess of two million copies.
Co-produced by former Yes soundman Paul De Villiers, the album showcases a collection of highly polished tracks, fusing lyrics, melody and showmanship into one glorious clutch of tracks that actually owe as much to progressive rock as they do to catchy pop.
Special Deluxe Collector's Edition, fully remastered sound, Six Bonus Tracks, 16 page full colour booklet, new interviews, 3,500 word essay, enhanced artwork and rare photos.
TRACK LISTING:

1. Black/White 2. Uniform Of Youth 3. Don't Slow Down 4. Run To Her 5. Into My Own Hands 6. Is It Love 7. Kyrie 8. Broken Wings 9. Tangent Tears 10. Welcome To The Real World. BONUS TRACKS: 11. Kyrie' (Extended Version) 12. Broken Wings (Live) 13. Uniform Of Youth (Live) 14. Is It Love' (Dance Mix) 15. Is It Love (Dub Mix) 16. Broken Wings (Extended Version)
MR. MISTER 'GO ON...' CANDY271
WHEN MR MISTER'S 'Welcome To The Real World' album eventually became a huge international seller, producing two massive hit singles in 'Kyrie' and 'Broken Wings', the music business hailed them as all conquering heroes destined to take their place in the rock 'n' roll hall of fame. So much attention was focussed on this their follow-up album, the meticulously crafted 'Go On...', with many eyes and ears confidently predicting another massive success story. Sadly, however, that was not to be.
'Go On...' suffered at the hands of a record company corporate reshuffle, one that saw it change hands and clean out its long time staff. RCA had been sold to German media group BMG who set in motion a restructuring of the company, a place where Mr Mister's new music was not appreciated. It was a disappointing state of affairs as the band had poured their heart and soul into crafting an album that, in many respects, displayed a far more confident and courageous sound.... but one that BMG were not sold on.
Utilising producer Kevin Killen, who had previously crafted records by U2 and Peter Gabriel, 'Go On...' elevates the band to another creative level. The sound is perfectly pristine, boasting a brace of superb songs (including the all time great 'Stand And Deliver') wrapped up in a progressive pop sheen that, even to this day, makes it entirely unfathomable as to why the record label failed to see its potential.
Special Deluxe Collector's Edition, fully remastered sound, Four Bonus Tracks, 16 page full colour booklet, new interviews, 3,500 word essay, enhanced artwork and rare photos.
TRACK LISTING:

1. Stand And Deliver 2. Healing Waters 3. Dust 4. Something Real (Inside Me / Inside You) 5. The Tube 6. Control 7. Watching The World 8. Power Over Me 9. Man Of A Thousand Dances 10. The Border. BONUS TRACKS: 11. Healing Waters (Remix) 12. Bare My Soul (B-Side) 13. Something Real (Inside Me/Inside You) (Rock Dance Mix) 14. Stand And Deliver (Remix)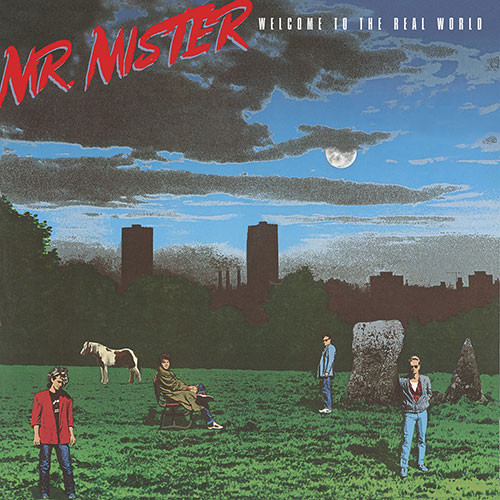 ENUFF Z'NUFF 'S/T' CANDY254
IF EVER THERE was a band that ought to have made the big time it was Enuff Z'Nuff. They had it all; songs, musicianship, looks, hooks, and a major record label itching to knock the ball right out of the park. The only thing they didn't have on their side was luck. Despite almost universal predictions that EZN would romp home to victory, fortune dictated otherwise leaving them stranded in a rapidly changing musical landscape.
Formed near the sprawling metropolis of Chicago during the mid eighties, this four man outfit featured two central characters, in songwriters Donnie Vie and Chip Z'Nuff. Brothers in all but name, they were f'ted as the Lennon and McCartney of the hard rock scene. Signed to Atco Records in a whirl of activity, the band recorded this, their groundbreaking debut album on home turf crafting one of the best albums of the era. A record so good, that even hard nosed rock critics for Rolling Stone magazine hailed it as a sensation.
Musically the band mined a luxurious fusion of melodic hard rock and pure sixties pop. It was as if Cheap Trick had joined forces with Bon Jovi. Tracks such as 'New Thing', 'Kiss The Clown' and the epic 'In The Groove' took a tired format and utterly reinvented the format. The ballad 'Fly High Michelle' is a masterpiece of psychedelic power pop, the icing on one of the greatest albums of all time.
Special Deluxe Collector's Edition, fully remastered sound, Two Bonus Tracks, 16 page full colour booklet, new interview, 3,500 word essay, enhanced artwork and rare photos.
TRACK LISTING:

1. NEW THING 2. SHE WANTS MORE 3. FLY HIGH MICHELLE 4. HOT LITTLE SUMMER GIRL 5. IN THE GROOVE 6. LITTLE INDIAN ANGEL 7. FOR NOW 8. KISS THE CLOWN 9. I COULD NEVER BE WITHOUT YOU 10. FINGER ON THE TRIGGER. BONUS TRACKS: 11. FLY HIGH MICHELLE (Live) 12. NEW THING (Live)
ENUFF Z'NUFF 'STRENGTH' CANDY255
CRITICALLY ACCLAIMED and held in the highest of esteem by both fellow musicians and critics alike, Chicago hopefuls Enuff Z'Nuff confounded expectations by falling short of commercial success. Their debut album had set tongues wagging with huge benefits predicted but, through no fault of their own, fast-track acceleration was curtailed by a number of set-backs. For many, it could have been a devastating blow but for EZN it just meant they would have to work harder next time around.
'Strength', the band's eagerly expected sophomore album, was yet another astounding piece of work. Recorded in 1991, the band threw everything and the kitchen sink into their songs, producing a record that, for many, actually eclipsed their f'ted debut. It was an album that showed maturity and depth, without losing the essence of their sound; a compelling mash-up of the Bon Jovi and Cheap Trick. All fifteen songs show a band in song writing heaven, driven to extraordinary highs by Donnie Vie's sensational and plaintiff voice.
Captured in the prime of creativity, their energy and inventiveness knowing no bounds, songs such as 'Heaven Or Hell', 'Holly Wood Ya' and 'Baby Loves You' continues the pop-rock theme from their debut album, but it's deeper, perhaps darker, tracks like 'Mother's Eyes' and the title track that indicate their real genius. Hamstrung by grunge and torpedoed by corporate machinations, 'Strength' failed to connect commercially but it's one of the most compelling albums you'll ever hear.
Special Deluxe Collector's Edition, fully remastered sound, Two Bonus Tracks, 16 page full colour booklet, new interview, 3,500 word essay, enhanced artwork and rare photos.
TRACK LISTING:

1. HEAVEN OR HELL 2. MISSING YOU 3. STRENGTH 4. IN CROWD 5. HOLLY WOOD YA 6. THE WORLD IS A GUTTER 7. GOODBYE 8. LONG WAY TO GO 9. MOTHER'S EYES 10.  BABY LOVES YOU 11. BLUE ISLAND 12. THE WAY HOME/COMING HOME 13. SOMETHING FOR FREE 14. TIME TO LET YOU GO. BONUS TRACKS: 15. KITTY 16. LET IT GO