AXEL RUDI PELL's 25th Anniversary Show 'Magic Moments' Due on CD/DVD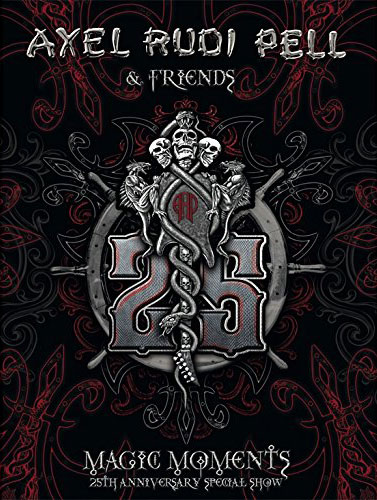 - "Magic Moments - 25th Anniversary Special Show" - the anniversary concert out in April -
It was a hot summer night and the beach was burning Wrong song, wrong place! But the weather gods smiled on Axel Rudi Pell on that memorable magic evening of July 11th 2014:  There had been a severe weather alert, but in the end the floodgates of heaven opened only during the last song of his regular set, the Rainbow classic "Long Live Rock´n´Roll". "That was Ronnie James Dio crying from above," promoter Horst E. Franz speculated while bidding his farewells to the almost 15.000 drenched- but-happy fans at the festival site.
Three hours before the sun went down, creating a beautiful atmosphere at the ´Bang Your Head´ festival in Balingen/Germany, where Axel Rudi Pell celebrated his 25th anniversary as a solo artist with a once-in-a-life-time performance. The CDs and DVDs document a show that is unlikely to ever be seen again in this constellation - a special present the protagonist had worked hard for. It took almost a year to set everything up: "The actual organisation started in the summer of 2014 when the promoter and I went public with the idea of this event," Axel tells with obvious relief. He´s still happy about how things have turned out. With a little help from his friends at his booking agency, the Bochum guitarist set up an extraordinary line-up. "It was mostly all about personal contacts", because after more than 30 years in the business Axel Rudi Pell is not only well-known, but also well-respected in the worldwide rock community, so the affix "& Friends" is not one of those usual exaggerations. Almost all of his favoured candidates agreed on this one July date.
As Axel is an early bird, the whole organisation was fairly easy. Of course there were rehearsals, but only one day before the show. Over fifty minutes worth of footage from those remarkable sessions are featured on the DVD and Blu-ray versions of this package. During those sessions Axel realized that something unique was happening. "Everybody involved had a blast and was right on track," he remembers. Unfortunately, Doogie White had a prior engagement with Michael Schenker on that rehearsal day, but was replaced with ARP frontman Johnny Gioeli. And except for Charlie Huhn, who had already agreed to play a gig in the USA with his current band Foghat, Axel´s former singers turned out in full force: Rob Rock (1991) and Jeff Scott Soto (1991-1997) together with long-time ARP drummer Joerg Michael (until 1998) took the stage by storm after a historical four-song Steeler reunion at the beginning of the show.
Axel´s current line-up put on a best-of show with a blisteringly atmospheric version of the Neil Young classic "Hey Hey My My" and a few epic ARP classics like "Mystica", "The Masquerade Ball", "Casbah" and "Into The Storm". You could feel those goose bumps spring up, and the climax was still to come: after a furioso battle between drum gods Vinny Appice and Bobby Rondinelli, a long list of rock legends took the Balingen stage: stepping in for Joe Lynn Turner, who was tied up with business affairs, Pretty Maids frontman Ronnie Atkins performed a superb version of Deep Purple´s "Black Night", including audience sing along. Then John Lawton, the former voice of Uriah Heep, demonstrated why he still deserves a lot of "Sympathy" (Uriah Heep), and he was still looking for some "Tush" (ZZ Top). When ex-Rainbow keyboard player Tony Carey joined in for an emotional "Mistreated", the now available Doogie White and Johnny Gioeli set the roof on fire. Graham Bonnet, another Rainbow veteran from the glorious "Down To Earth" era, remembered the good old times with "Since You Been Gone" and, of course, the aforementioned "Long Live Rock´n´Roll". At the end of those three hours plus all guests (and friends!) gathered on stage for the grand finale "Smoke On The Water". A legendary evening drew to a spectacular close. Are you happy, Axel? "Of course! I could have played at least for another hour." Did anything go wrong? Notthing, but there was no way we could have prevented those long change-overs in between." But at least the weather gods smiled

To get an idea what really happened that night, here is "Black Night" - live feat. Ronnie Atkins: https://soundcloud.com/steamhammer-spv/axel-rudi-pell-black-night-live-feat-ronnie-atkins

Tracklisting:
Call Her Princess - Steeler
Night After Night - Steeler
Rockin´ The City - Steeler
Undercover Animal - Steeler
Nasty Reputation - Rob Rock, Joerg Michael
Warrior - Jeff Scott Soto, Joerg Michael
Fool Fool - Jeff Scott Soto, Joerg Michael

(Current Arp Band)
Burning Chains
Strong As A Rock
Long Way To Go
Hey Hey My My
Mystica
Into The Storm
Too Late / Eternal Prisoner / Too Late
The Masquerade Ball / Casbah
Rock The Nation
Drum Battle - Vinnie Appice, Bobby Rondinelli
Black Night - Ronnie Atkins
Sympathy - John Lawton
Tush - John Lawton
Mistreated - Doogie White, Tony Carey, Johnny Gioeli
Since You Been Gone - Graham Bonnet, Michael Voss, Doogie White
Long Live Rock´N´Roll Doogie White, Graham Bonnet, Tony Carey
Smoke On The Water All Guests
Line-Up:
Axel Rudi Pell - Guitars
Johnny Gioeli - Vocals
Ferdy Doernberg - Keyboards
Volker Krawczak - Bass
Bobby Rondinelli Drums

Friends:
Steeler: Peter Burtz (v), Tom Eder (g), Roland Hag (b), Jan Yiridal (dr)
+ Rob Rock (v), Jeff Scott Soto (v), Joerg Michael (dr), Vinny Appice (dr), Ronnie Atkins (v), John Lawton (v), Tony Carey (k, v), Doogie White (v), Graham Bonnet (v), Michael Voss (v)

Configurations / Release Dates:

Digipak 3 CD, Digipak 3 DVD (NTSC, code free), Blu-ray and download - out in Scandinavia on April 22nd, in Germany on April 24th, in Europe on April 27th and in the USA on April 28th through SPV/Steamhammer
_____________________________________________

www.axel-rudi-pell.de
https://www.facebook.com/pages/AXEL-RUDI-PELL-OFFICIAL-SITE/427164065301
https://www.facebook.com/steamhammerofficial