YNGWIE MALMSTEEN's Polydor Years Celebrated in New Box Set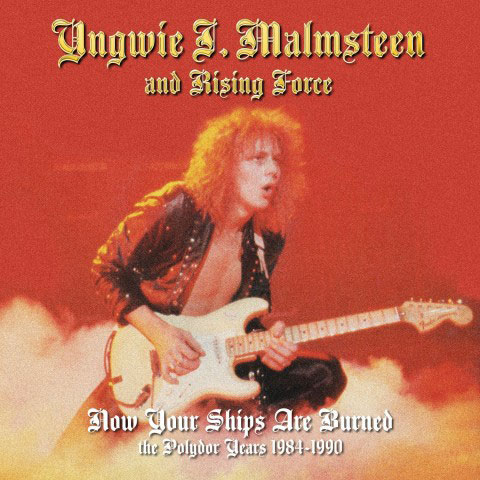 The Polydor albums of Swedish guitarist and songwriter Yngwie Malmsteen are collected in a new four-CD box set titled Now Your Ships Are Burned, due for release in February.

Studio long-players Rising Force (1984), Marching Out (1985), Trilogy (1986), Odyssey (1988) and Eclipse (1990) are all included, along with the 1989 live album Trial By Fire: Live in Leningrad.
Each CD contains (approximately) two albums and all the music has been newly remastered for this release by Andy Pearce. The booklet comes with an essay by Malcolm Dome as well as full album credits for each record.
This will be packaged in a four-CD 'fatbox'.
Now Your Ships Are Burned is out on 23 February 2015 (March 3 USA)
---
Disc One
Yngwie J. Malmsteen's Rising Force (1984)
3. Now Your Ships Are Burned

5. Icarus' Dream Suite Op.4

7. Little Savage 8. Farewell
10.I'll See the Light, Tonight
Disc Two
2. Marching Out Bonus Tracks

3. Far Beyond The Sun [live]
5. You Don't Remember, I'll Never Forget
Disc Three
Disc Three Odyssey (continued)
7. Faster Than The Speed Of Light
Trial By Fire: Live In Leningrad (1989)
16. You Don't Remember, I'll Never Forget
Disc Four
Trial By Fire: Live In Leningrad (continued)
1. Guitar Solo (Trilogy Suite Op: 5/Spasebo Blues)
14. See You In Hell (Don't Be Late)