SPIDERS & SNAKES Release Music Video For "Kawasaki City"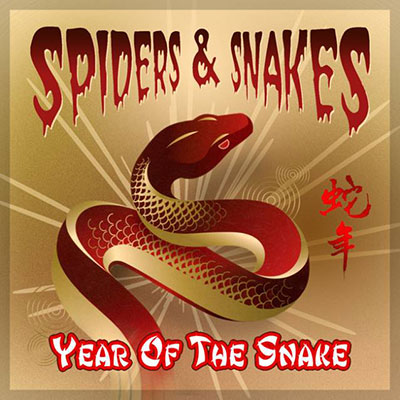 SPIDERS & SNAKES RELEASE MUSIC VIDEO FOR "KAWASAKI CITY," FILMED IN JAPAN AND ON THE SUNSET STRIP
12 November 2014…Sunset Strip veterans Spiders & Snakes, led by the storied legend Lizzie Grey, have released a music video for "Kawasaki City" from their new album, YEAR OF THE SNAKE (available now on Sansei Records).
Set in Kawasaki City, Japan and filmed on location at a real nightclub called Groupie Dolls, the song and music video clip recreate a true story.  Tim Yasui, drummer/singer and Spider & Snakes co-founder, had an unforgettable night at the club with Japanese punk metal band Dirtrucks, who are also featured in the video.
The "Kawasaki City" story is cut with live footage from the band's recent concert at the Whisky A Go Go on the Sunset Strip.  Grey was on leave due to illness, so Phil St. Vincent handled bass and vocals, with Yasui on drums and vocals and Chris Sheridan (Sweet Savage/James Kottak) on lead/rhythm guitars and vocals.
The video was edited by Scott Gawlik from Crazy Cow Productions (Green Day, Black Sabbath, Smashing Pumpkins).
The recording of "Kawasaki City" features Ryo Okumoto (ASIA Featuring Jon Payne/Spock's Beard/Aretha Franklin) on keyboards and Betsy Weiss from Bitch on backing vocals, It was produced by Gavin Ross in Burbank, California, mixed by Anthony Focx (Steven Tyler, Vince Neil, Night Ranger, Ted Nugent) in Nashville, Tennessee, and mastered by Maor Appelbaum (Yngwie Malmsteen, Rob Halford, Sepultra, YES) in Los Angeles, California during the Chinese calendar Year Of The Snake.
SPIDERS & SNAKES will be performing at the Whisky on Thursday, December 18, in celebration of their 25th anniversary and official record release party for YEAR OF THE SNAKE.  Madamn Hollywood and Molly Vamp are also on the bill.  Tickets/show information:  www.whiskyagogo.com/site/event/madamn-hollywood-spiders-snakes/