HARMONY: "Inhale" Lyric Video Released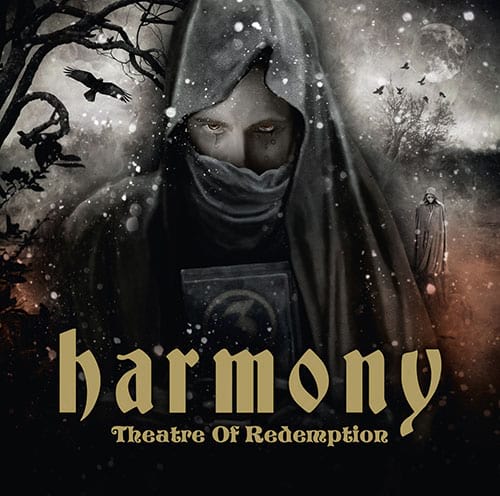 HARMONY: "INHALE" LYRIC VIDEO RELEASED
The Swedish melodic metal band HARMONY just released a lyric video for the track "Inhale" from their up-coming album "Theatre of Redemption".
Link to the lyric video: http://youtu.be/nmYOVtDGWyE
"Theatre of Redemption" will be released on November 28th in Europe and on December 2nd in North America through Ulterium Records.
"Theatre of Redemption" features Daniel Heiman [ex. Lost Horizon, Heed] on vocals on all tracks. The album was mixed by Fredrik Nordström and Henrik Udd at Studio Fredman [At The Gates, In Flames, Hammerfall] and mastered by Thomas "Plec" Johansson [Scar Symmetry, Watain].
The strong and diverse songs, the emotional and technical guitar playing by Markus Sigfridsson and the fantastic vocals provided by Daniel Heiman brings Harmony up to the same level as the biggest bands in the melodic metal genre. Just listen and you will see. Follow Harmony into the Theatre of Redemption..
All physical editions of "Theatre of Redemption" as well as three different t-shirt designs are available at the Ulterium Records Store: http://www.ulteriumstore.bigcartel.com
Harmony "Theatre of Redemption" line-up:
Daniel Heiman – Guest lead vocals
Markus Sigfridsson - Guitars, voices, addittional keyboards and programming
Tobias Enbert - Drums
Johhn Svensson - Keyboards
Raphael Dafras - Bass
Check out the album line-up announcement video at YouTube here: http://youtu.be/kAoy6R0Wnts
"Theatre of Redemption" track listing
01. The Window of My Soul
02. Inhale
03. Crown Me King
04. Son of the Morning
05. What If
06. Theatre of Redemption
07. Bloodbound
08. You Are
09. Hands of Time
10. In Search Of