AXENSTAR 'Where Dreams Are Forgotten' Details Revealed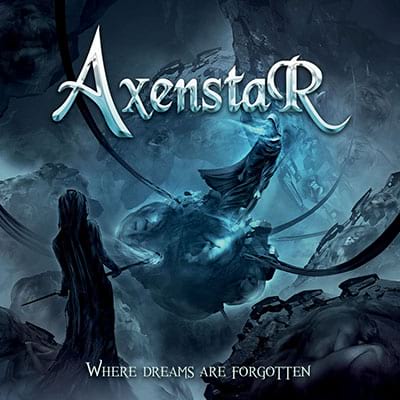 AXENSTAR: "WHERE DREAMS ARE FORGOTTEN" DETAILS REVEALED
"Where Dreams Are Forgotten", the up-coming album from the Swedish power metal band AXENSTAR will be released on November 28th in Europe and December 2nd in North America through Inner Wound Recordings.
"Where Dreams Are Forgotten" was mixed by Axenstar and Pelle Saether [Wolf, Harmony, Månegarm] at Studio Underground and mastered by Daniel Beckman [Månegarm, In Mourning, Deals Death] at Ridge Street Studios. The artwork was created by Felipe Machado Franco [Blind Guardian, Rhapsody of Fire, Iced Earth]
Axenstar about the new album:
"This is an album we're extremely proud of! The whole band have contributed to the songwriting and we have really taken the time to make sure every song has gotten the attention it deserves. We have gone back to the roots of the Axenstar sound and mixed it with all the new influences we got over the years and it has turned into this great and exciting new album. As always we have recorded the album at Studio Underground with Pelle Saether in charge of the mixing and producing. And of course we're really excited to have been signed to Inner Wound Recordings and to work with them on this release! Make sure to check out our new album "Where Dreams Are Forgotten" later this year!"
Check out an album teaser at YouTube: http://youtu.be/GCRel0rdNeg
"Where Dreams Are Forgotten" track listing:
01. Fear
02. Inside The Maze
03. My Sacrifice
04. Curse Of The Tyrant
05. The Return
06. Demise
07. Annihilation
08. Greed
09. The Reaper
10. This False Imagery
11. Sweet Farewell
"Where Dreams Are Forgotten" can be pre-ordered at the Inner Wound Recordings Store at http://www.innerwound.bigcartel.com
Axenstar online:
Website: http://www.axenstar.com
Facebook: https://www.facebook.com/axenstartheofficialsite