TYPER & PERRY Redo Classic 'Dream On' For Boston Marathon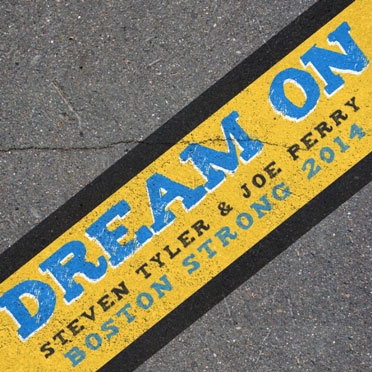 STEVEN TYLER AND JOE PERRY'S POWERFUL NEW VERSION OF AEROSMITH'S CLASSIC 'DREAM ON,'
 --AS HEARD ON ESPN'S BOSTON MARATHON SPECIAL--
 AVAILABLE ON ITUNES JULY 31, 2014
The world heard a new version of the AEROSMITH classic 'Dream On' during the Spring 2014 premiere of ESPN's award-winning news magazine show, E:60. Recorded in Los Angeles in early April, the song features Steven Tyler and Joe Perry, who are joined by the Southern California Children's Chorus on this arrangement of 'Dream On (Boston Strong 2014).' The track will be released today as a single via iTunes. In a powerful moment at last night's AEROSMITH concert at The Forum, in Inglewood, CA the band surprised the audience by bringing the Southern California Children's Chorus on stage to perform this special rendition of 'Dream On (Boston Strong 2014).'

"The tragedy that took place during the Boston Marathon was unfathomable, but Boston is incredibly resilient and became even stronger. I am so honored to release this version of 'Dream On' and to be able to have had the Southern California Children's Chorus perform with us last night was a beautiful moment, a true gift from up above," says Steven Tyler.

'The heinous act that took place during the Boston Marathon which shook not only the city but the world and touched us all demanded a positive response,' Joe Perry said.  'Boston Strong was that response and gave an example of our city's inner strength. I would like to think that the strength of our performance on 'Dream On' last night with the Southern California Children's Chorus in LA at the Forum was another rallying point for the goodness in all of us.'

'Dream On (Boston Strong 2014)' debuted Tuesday, April 15 on 'E:60 Presents Dream On: Stories from Boston's Strongest,' a special hour dedicated to the one-year anniversary of the Boston Marathon bombings.  The show presented five stories of survivors, narrated by celebrity voices of Boston At 2:49 PM, on April 15, 2013, as scores of spectators cheered on the Boston Marathon runners approaching the finish line, two hand-made bombs exploded.  In a split second, the lives of hundreds of people were forever changed. E:60 presented a special program remembering the lives lost and paying tribute to those who survived, their journeys of perseverance, courage, strength and love in the past twelve months.

In July, AEROSMITH embarked on this summer's definitive rock experience, the LET ROCK RULE tour across North America with Slash. The tour kicked off Thursday, July 10 at Nikon at Jones Beach Theatre in Wantagh, NY making stops in Boston, MA. (Xfinity Center), Los Angeles, CA (The Forum) and San Francisco, CA (Sleep Train Pavilion) among other cities, before wrapping Friday, September 12 in Sydney, NS, Canada (Open Hearth Park). These dates follow the band's overseas trek, which kicked off May 17 in Sofia, Bulgaria, and hit numerous countries including stops in Russia, France, and Germany before ending on June 28 in the U.K.

AEROSMITH's U.S. summer tour dates are as follows:

DATE          CITY                              VENUE

Sat     8/2    Las Vegas, NV                 MGM Grand Garden Arena
Fri      8/8    Stateline, NV                  Lake Tahoe Outdoor Arena At Harveys
Wed   8/13  Concord, CA                    Sleep Train Pavilion
Sat     8/16  George, WA                    The Gorge Amphitheatre
Tue    8/19  Denver, CO                     Pepsi Center
Fri      8/22  Dallas, TX                       American Airlines Center
Mon   8/25  The Woodlands, TX         The Cynthia Woods Mitchell Pavilion
Thu    8/28  Atlanta, GA                     Phillips Arena
Sun    8/31  Atlantic City, NJ              Boardwalk Hall
Wed   9/3    Newark, NJ                      Prudential Center
Sat     9/6    Bristow, VA                     Jiffy Lube Live
Tue    9/9    Clarkston, MI                  DTE Energy Music Theatre
Fri      9/12  Sydney, NS, Canada       Open Hearth Park
Here are some clips from the special:
E:60 Presents Dream On: Stories from Boston's Strongest ' Preview
E:60 s Chris Connelly interviews Steven Tyler and Joe Perry
All funds received by Steven Tyler and Joe Perry in connection with this track will be donated to charities helping those affected by the Boston Marathon bombing.
About AEROSMITH:
AEROSMITH--Steven Tyler (vocals), Joe Perry (lead guitar), Brad Whitford (guitar), Tom Hamilton (bass) and Joey Kramer (drums)--are a living piece of American music history, having sold over 150 million albums worldwide and been inducted into the Rock and Roll Hall of Fame. They are the recipients of countless awards including four GRAMMYs, eight American Music Awards, six Billboard Awards and 12 MTV Video Music Awards among many other honors.  Their latest honors include the 2013 ASCAP Founders Award and induction into the Songwriter Hall of Fame at the 44thannual SHOF ceremony also in 2013.   MUSIC FROM ANOTHER DIMENSION! (Columbia), the band's latest album, was released in late 2012. Proving that they can cross genre-boundaries with ease, these rock legends have even taken home a Soul Train Award for Best Rap Single for their remix of Run DMC's 'Walk This Way.'  With scores of multi-platinum albums, AEROSMITH continues to inspire generations to get their wings, get a grip and just push play. It is no wonder why they are one of the most beloved bands of all time.
For more information, visit: